WELCOME TO AVENGER SYSTEMS
Avenger Systems is an independently owned fire detection and suppression company based in the United States and operating in most regions around the world.
Avenger Systems is committed to providing you with cost-effective, high-quality solutions. Our vast industry experience, state-of-the-art technology, and dedication to customer service can't be beat. You can rely on Avenger Systems for all of your fire protection needs.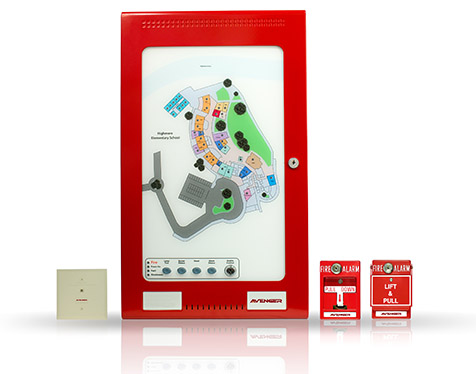 WHAT WE OFFER
We Offer Our Customers the Best Services & Solutions, As Follows
AVENGER
FIRE DETECTION

SYSTEMS

At the backbone of the Supreme analog addressable system is the Supreme control panel itself. Utilizing Hochiki's patented Digital Communication Protocol (DCP), it allows for robust intelligent communication with other analog addressable products. An RS-485 bus provides communication to the panel network, while the RS-232 interface allows the convenience of programming via a PC. The panel supports any combination of addressable devices, up to 127 per signaling line circuit, including thermal, photoelectric smoke and CO detectors/sensors, and monitoring / control modules. The Loop Explorer Windows based software interface provides the installer with fingertip access to installation programming and diagnostic tools.
AVENGER
KITCHEN HOOD SUPPRESSION

SYSTEMS

The Avenger K & FLEX Systems are pre-engineered, wet chemical, stored pressure type systems with a fixed nozzle agent distribution network. The uncomplicated nature of the Avenger system virtually eliminates design & installation errors. Avenger is listed by Underwriter's Laboratories, Inc. and is tested to UL standard 300.
AVENGER
CLEAN AGENT FIRE SUPPRESSION

SYSTEMS
FIRE FIGHTING

SYSTEMS

Our Fire Fighting offerings are Fire Pumps, Valves and Sprinklers. All of which ensure your safety and the environment you're in.